The Best Destinations to do Yoga
You don't need much for yoga, in fact you don't really need anything at all. The beauty of the practice is in the simplicity and accessibility, that no matter who you are, or where you are, or what you have… you can do yoga. In the last few years, as more and more people have began to step on their mats and give it a go and the booming travel industry, there has been a rise in the number of 'yoga destinations', opening up the practice to become even more of an experiential opportunity in beautiful surroundings. I wanted to share some of the best of them with you!
1. Zuri, Zanzibar
Set on the Indian Ocean, it's no surprise that this setting presents a stunning yoga spot with it's turquoise waters and white-sandy beaches. Located on the Equator, the vibrancy of the colours and culture here help the time run differently, making it easy to let go of the daily routine and just allow ourselves to see a new perspective. Do a little less, and let yourself be!
2. Anamaya Resort, Costa Rica
Anamaya, meaning 'good health' is routed in just that - this resort in Montezuma, Costa Rica, offers an opportunity for guests to connect to nature, like-minded people and of course, yourself. Overlooking the ocean but nestled in the jungle, you'll discover more than you hoped for. With permaculture gardens where produce for the kitchen is grown and a strong sustainability focus, this really is an opportunity to live and breathe yoga.
3. Sweatlife Festival - Old Truman Brewery, London
If you want to experience the power of yoga in the bringing together of hearts and minds at its fullest, Sweatlife Fesitival in London is a must. Hosted by lululemon, this festival brings together an awesome line up of teachers, bringing hundreds of people together celebrate community and connection through movement and breath.
4. Silent Beach - Hillside Beach Club, Turkey
Tucked away at the edge of Hillside Beach Club, you'll find this yoga deck overlooking the sea. Flowing with the waves, underneath the shade of the trees, there is a great sense of connection to the elements that really help to anchor you into a beautiful yoga practice. Hillside Beach Club run two 'Feel Good Week's each year, with guest teachers from around the world on hand to guide your practice in this beautiful spot.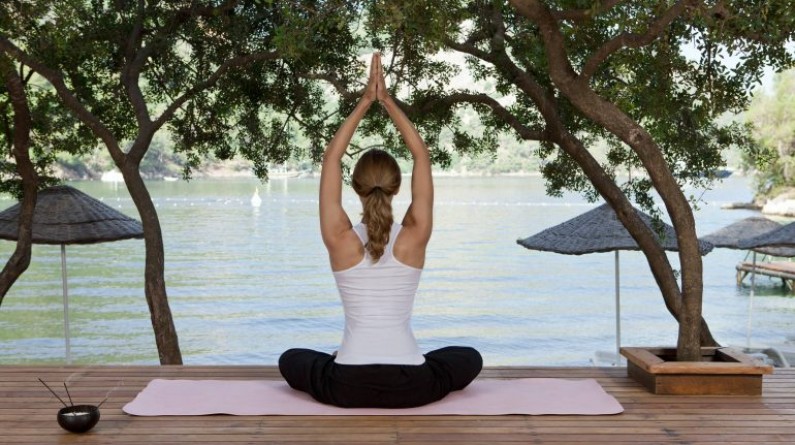 5. Mysore, India

It wouldn't be right to list the best destinations for yoga without taking it back to where the practice began. Mysore is a region in India where the creator of Modern Vinyasa Yoga was developed and taught by K. Pattabhi Jois. For an authentic experience, head to the Mysore region to connect with the practice of yoga at its Indian roots.
6. WANDERLUST Festival - Garmisch-Partenkirchen, Germany
There's nothing quite like mountain air and that's why the setting for this wellness festival makes it something extra special. A wellness festival set in the mountains is the perfect opportunity to get connected to nature and community through a 3 day experience guided by international teachers coming together from across the globe.
7. Bambu Indah, Bali
Nestled in the jungle just a stone's throw from popular yoga destination, Ubud, you'll find Bambu Indah - a secluded bamboo built haven with an epic yoga space overlooking the tree tops and rice fields. Listen to the orchestra of insects, soundtracking your practice (mosquito repellant provided!). Sunsets are the best time, with the sky filling with colours as the sun goes down. Or join in the mornings and stay for the day, cooling off in the natural pools on the other side of the river.