Kayaköy: a window onto Turkey's diverse past
Hillside Beach Club – Outside – offers a springboard into Turkey's rich culture, history and nature.
Overlooking the idyllic azure Mediterranean and embraced by pine forested slopes, Hillside Beach Club is close to some of southwest Turkey's most fascinating historical sites, of which Kayaköy is the closest and the most famous.
The valley of Kayaköy has an intriguing history and an abundance of nature. This makes it ideal for hikers staying at Hillside Beach Club, as well as those interested in Turkey's rich past. Just 8 km due south of Hillside Beach Club, the valley is believed to be the site of the Lycian city of Karmylassos. There are still a few Sarcophagi, along with several rock tombs from the period, which are well worth exploring.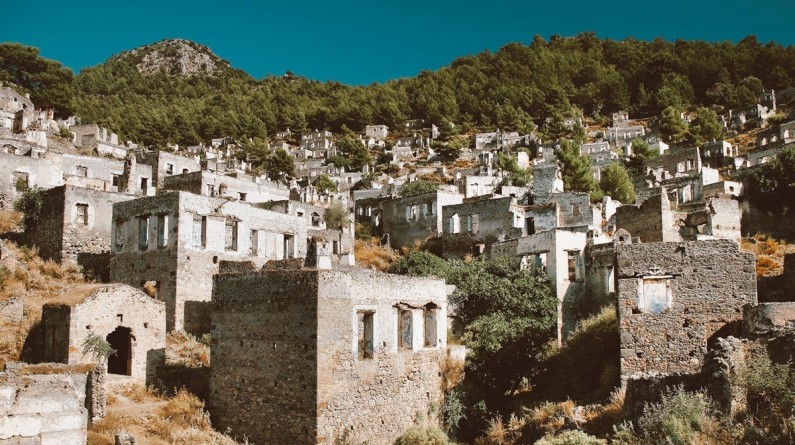 Levissi is an extraordinary, poignant place. Also known as the "Ghost Town," the ruins are gradually being reclaimed by nature; a testimony to events that took place in Turkey and neighbouring Greece, less than a century ago.
In Ottoman times, Kayaköy had a mixed Muslim and Greek Orthodox community. With cooler summer temperatures than on the coast and rich soil for orchards and produce – the valley's black figs are legendary – the families who lived here thought their valley was idyllic.
Muslim families mostly lived in smallholdings, on the valley floor, while Christian families preferred the rocky slopes.
In its heyday there were roughly 500 houses and a population of 2000. In 1852, the explorer and archaeologist, Charles Fellows, recorded 'Three or four hundred' houses, while Professor Otto Benndorf reported '500 mostly two storied elegant houses' in 1884.
As well as houses, Levissi had schools, a library and shops, as well as 21 churches and chapels. These include the beautiful basilicas of Panaghia Pyrghiotissa and Taxiarhis (1), suggesting both status and wealth.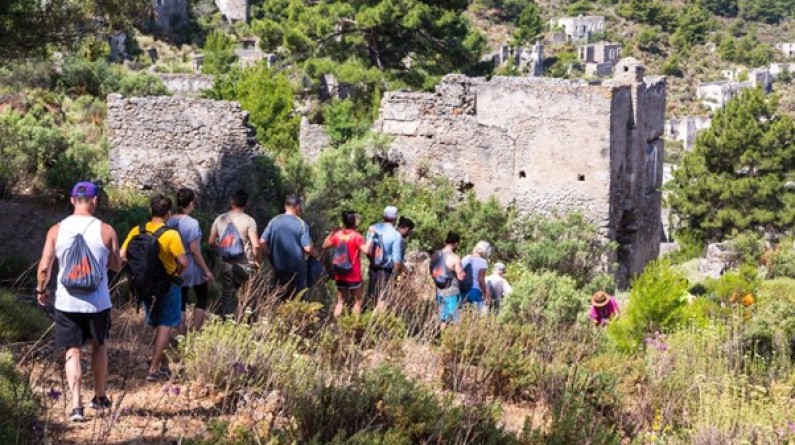 Neighbourhoods like Levissi lived in relative harmony for centuries – often sharing rituals, traditions and cuisine. But nationalism, the demise of the Ottoman Empire after WW1, followed by the Turkish War of Independence, had a devastating impact on Turkish and Greek communities.
In July 1923, there was an event that Turkey still refers to as the Mübadele, Population Exchange, and Greece as the Asia-Minor Catastrophe. Overseen by the Great Powers of the day, the Treaty of Lausanne, decided to 'repatriate' Christians to Greece and Muslims to Turkey; countries where they had never lived.
Although all the villagers who were alive at the time have passed on, Ayşe Nine, who lived until she was 104 years old, was 17 in 1923. She used to recall how she looked after her Christian friend Maria's dowry chest, waiting in vain for her return. She also remembered walking around empty Levissi and hearing cats, once pets, crying for food.
For the most part the town remained empty, possibly because local people preferred to live on their land, and eventually the land became state property. These days when people explore the ruins, they immediately become enveloped in the town's past. It was such a visit that inspired the British author, Louis de Bernières, to write his classic novel Birds Without Wings (2). Set in the fictitious town of Eskibahçe, it is nevertheless based on Kayaköy.
More recently, Russell Crowe, director and star of The Water Diviner (3), used the ruins as one of the movie's locations, blending scenes with others filmed at the mountain site of Tlos.
Levissi is picturesque and photogenic. Hillside Outside organizes treks to Kayaköy for our guests. The four hour excursion is in the company of a professional guide, who explains the history of the area.
The ruins and the heady scent of sage, oregano and wild thyme; spotting flowers, birds and wildlife and hearing the sounds of goat bells, will take our guests back in time. On the way, guests will stop for a traditional breakfast of Gözleme – stuffed Turkish flatbreads – cooked over an open fire.
Guests staying at Hillside Beach Club wishing to discover more about the history, flora and fauna of the area can go on longer hikes along the footpaths of Kayaköy to the ruins of Af Kule, a monastery carved into the cliff by monks in the 18th century. There are also treks along coastal stretches of the Lycian Way.
1) These two churches have been closed to the public since 2013 for safety reasons.
2) Birds Without Wings, 2004: Louis de Bernières; published in many languages.
3) The Water Diviner, 2014: Russell Crowe
4) A Guide to Kayaköy: Dean Livesley and Jane Akatay; forward by Louis de Bernières