Holidays on the Mediterranean
Turkey
Famous for its fine sandy beaches, clear blue seas and stunning mountain scenery, Turkey's Turquoise Coast (or Turkish Riviera) on the Mediterranean attracts hundreds of thousands of visitors every year. Stretching, roughly, from Mersin on the south coast to Izmir on the Aegean Sea, the coastline has a seemingly endless choice of five-star hotels, and traditional pansions, or guesthouses, and is littered with important archaeological sites such as Ephesus and the ancient Lycian ruins at Patara, near Kalkan.

As well as popular resorts such as Bodrum, Marmaris and Olu Deniz, Turkey's Mediterranean coastline is home to dozens of lesser-known towns and villages.
Selimiye, for example, on the western side of the unspoiled, pine forested Bozburun Peninsula (the centre of Turkey's gulet-building industry) is a charming time warp. A long-time favourite with Turkish visitors, the laidback seaside village has started to attract more foreign tourists and a handful of boutique hotels and guesthouses have opened in the past five years or so.
There are around 40 restaurants to choose from, most of them strung out along Selimiye's attractive promenade. Veteran fish restaurant Sardunya gets consistently good reviews. Located right by the water, it specialises in freshly caught fish and seafood such as grouper, calamari and baby squid.
The nearby seaside village of Orhaniye, surrounded by olive groves and sandy beaches, has the biggest marina outside Marmaris and offers some of the best yachting and gulet cruising in the Mediterranean.

On Turkey's northwestern Aegean coast, a couple of miles from the Greek island of Lesbos, is the pretty town of Ayvalik and Cunda (or Alibey) Island, which is full of cobbled streets, waterfront fish restaurants and Ottoman wooden houses, many of which are fast being turned into boutique hotels and cafes.
The Hillside Beach Club, in Fethiye, Turkey, was recently quoted as "delivering the ultimate family vacation in the Mediterranean" by Harvard Business School. With extensive facilities (including three sandy beaches, two of them adults only; three restaurants and eight bars; a nature trail fitness classes and a wellness programmes) for families and couples without children, the resort is set in an idyllic location around the secluded Kalemya Bay with its clear blue waters and densely wooded hills.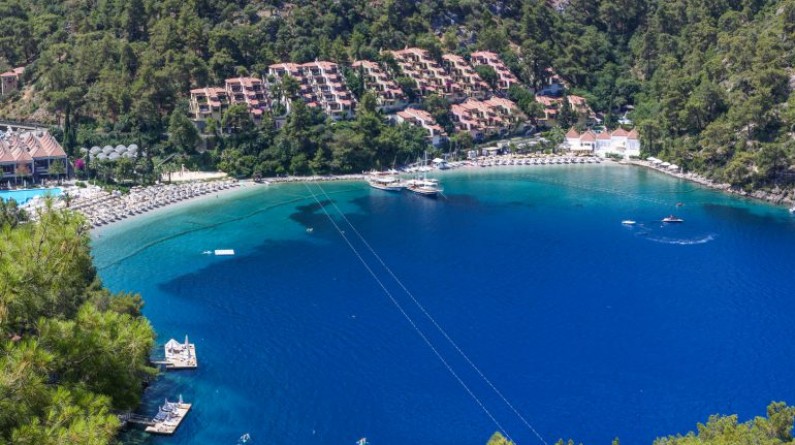 Greece
Greece's Aegean islands – including Mykonos, Rhodes and Crete – make a great place for a Mediterranean holiday and an introduction to the country's thousands of islands.
Trendy Mykonos, with its upmarket hotels and restaurants, traditional whitewashed villages and chic bars and cafes, attracts a fashionable crowd, who come here to party into the small hours. Along with the bustling beaches at Paradise and Super Paradise, you'll find quieter among the sparkling coves at Elia and Ornos.
Rhodes is the biggest and most historically important of the Dodecanese islands, in the south eastern Aegean. Rhodes Old Town, with its medieval castle and 12-metre thick walls, is a Unesco World Heritage site and a maze of cobbled streets and winding alleyways.
Picturesque, car-free Lindos, on Rhodes' south eastern coast, is an "old-school" Greek island. A collection of whitewashed houses tumbling towards an aquamarine bay, it's narrow, cobbled streets reveal historic tavernas as well as fashionable boutiques and contemporary bars and cafes. The town's two beaches – Megali Paralia and the quieter Lindos Pallas, have clear blue waters and fine golden sand.
Crete, birthplace of Zeus and the Minoans, is Greece's biggest island and a fascinating mix of ancient archeological sites (such as the Palace of Knossos), stunning scenery and intriguing towns and villages. From the sun-drenched beaches of its northern shores to the rugged canyons in the south, Crete's natural beauty never fails to stir the senses.