Hillside Beach Club Sunset Cruise

Jane Akatay
Sailing into the sunset
When you stay at the Hillside Beach Club you will very soon, if not immediately, fall under the spell of all the many wonderful things you will see and experience during your holiday. There is an abundance of perfect weather, blue skies, dramatic scenery, warm clear Mediterranean waters, and marvellous nature. But due to its incredible geography this magnificent part of the Turkish coast is also home to the most sublime sunsets. The Hillside team has combined all these elements to make a truly exceptional boat trip.
It's strange isn't it? Despite the fact that the sun rises and sets every single day of our lives, as it has for eternity, sometimes – particularly those of us who work in an office or live in a city – we take it all for granted and don't even notice it's happened. The day simply goes from darkness to light to dark again. One moment it's day – and then suddenly it's night and we realise too late we've missed daybreak, nightfall and the passage of the sun in between.
Thankfully, when you stay at Hillside Beach Club, you're able to reconnect with Mother Nature. Watching the day's journey from morning to night becomes irresistible and the whole twilight spectacle enthralling. In this part of the world, watching the sun go down has been an important tradition and part of life's daily ritual since time immemorial.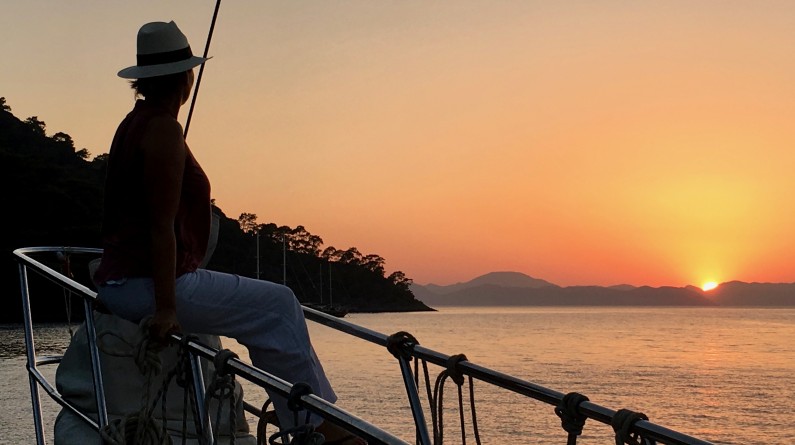 And relaxing aboard a Hillside sunset cruise is a very special way to watch this natural marvel unfold. Unforgettable for everyone in their own particular way, for me I think the joy of this end of the day cruise is about being afloat on water so clear you can see the seabed; chilling out with friends and family or meditating in happy solitude.
It's also about the sense of being totally enveloped in the changing light and colours of encroaching night, especially should you choose to go for a swim. There are the sounds of sunset too; the gentle lapping of the sea on the rocky shoreline, chirruping cicadas and chugging fishing boats, heading back to port. And then there's the sight of a seagull wheeling lazily in the golden evening light… None of these are spoilt – but instead enhanced – by the peaceful background music that's playing throughout the trip.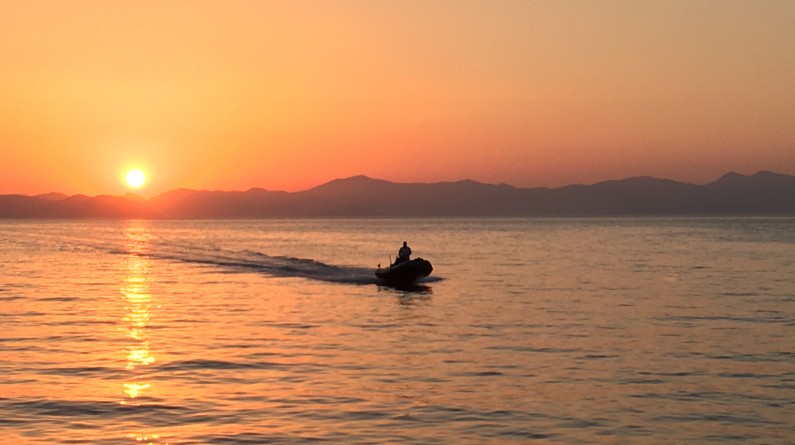 This is such a uniquely personal experience; you'll have to forgive me for becoming somewhat lyrical as I write. It's just that there's something so primaeval, deeply mystical
about dusk… It's like a heavenly veil of twilight hues, being gently lowered across the face of another day.
Twilight, dusk: two such evocative words for when day turns to night in a symphony of colour and sound. In the course of an hour or so, the sky has transformed, dreamlike, as if by magic, from fresh, vibrant blues, to fiery oranges, reds, ochres and coppers; until it finally becomes a star-filled velvet black.
So, who wouldn't leap at the chance to board a beautiful boat, and sail across – as Homer call it long ago – a wine dark sea, to watch the shadows lengthen, before saluting the sun as it goes off duty, to be replaced by the moon? After all, it's a story as old as time itself…
All this happens in a delightfully comfortable atmosphere – one created by the enduring beauty of the traditional wooden Turkish gulet and being waited upon by the charming HBC staff, while the white-uniformed crew flit around – doing what sailors do - in the background.
The Hillside Beach Club sunset cruise lasts two relaxing hours, just long enough to celebrate the end of the day, while enjoying a glass of something cooling and/or bubbly, or both, served with bitesize nibbles – but not so much you lose your appetite for dinner.