A Blissful Evening at Hillside Beach Club
Why not have a little daydream? Go on… you deserve it. It's been a tough year. Close your eyes, take a few deep breaths and relax… Now, imagine you're on holiday at Hillside Beach Club.
It's a dreamy midsummer day at the beginning of August. You're sitting on the picturesque beach, framed by pine-clad hills and luxuriant gardens. You're sipping on a chilled champagne cocktail… The crystal clear sea is rhythmically lapping on the shore, like Mother Nature's heartbeat, just a meter or so from your feet.
It's early evening. The shadows are lengthening, the intensity of the noontime heat has decreased to a gentle, caressing warmth and there's a soft, lilting breeze. Discreet but attentive, the courteous Hillside team responds, as always, to your every need.
Envisage a small corner of heaven on earth, and you're there.
As a regular guest at Hillside Beach Club, you'll know these feelings very well; it's one of total peace, relaxation and feeling good, in an idyllic setting: an ambience they know better than any how to create.
But this evening is different. Something even more magical is about to happen and with it comes an almost tangible sense of anticipation and elation. Like gliding swans, the Hillside team is busy, although they appear calm. However, this is a special night—a first for Hillside Beach Club and Turkey—and for them at least, there's a slight tension. Not that you'd notice; this is part of their skill and charm.
In these days of social distancing and lockdowns there's so much everyone's been missing, and this is something Hillside Beach Club is about to remedy.
Seemingly out of nowhere, elegantly dressed from tip to toe in radiant white, a group of musicians arrive on the shore… accompanied by their conductor. Gracefully, they are taken by boat to the platform—a floating stage—moored in the shallows.
In case you're still wondering, these men and women are the string ensemble from the Antalya Symphony Orchestra, accompanied by their conductor Oğuzhan Kavruk. After taking their seats, the ensemble begins to serenade you with your all-time classics favorites, composed by some of the world's most celebrated musical maestros. As the music of Bach and Pachelbel fills the beach with pure sound, there's an immediate hush and a growing sense of enchantment. Then nostalgic tangos bring a touch of romance and electricity to the balmy evening air.
The musicians continue to play while twilight gathers. The enraptured audience listens as the sky performs its sunset miracle, increasing everyone's feelings of contentment and enjoyment, in equal measure.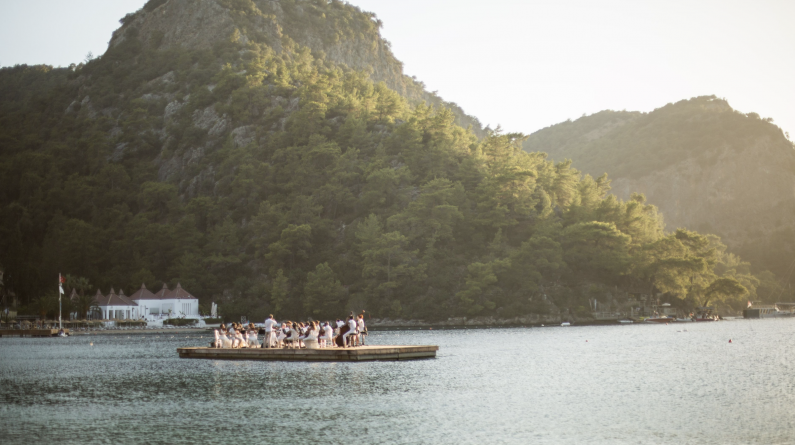 In a spectacle of nature's alchemy, the sun transforms into a fiery orb as it begins its slow decent behind Göcek's hills on the far side of the picture-perfect Gulf of Fethiye. With its theatrical lightshow, the sky now takes center-stage, accompanied by the poignant Por una Cabeza by Carlos Gardel; the haunting tango from the movie, "The Scent of a women," followed by Shostakovich's evocative Waltz No. 2.
The sun has departed for another day, but as a climax it embellishes the darkening sky and sea in a dazzling display of copper, indigo, magenta and gold. Against this atmospheric backdrop, the dreamlike melodies continue, this time accompanied by the velvet tones of Seran Bilgi, singing "Feelin' Good." This song, made famous by the legendary Nina Simone,
Is one that thousands of fans of Hillside Beach Club will already know; after all, Feeling Good is what this enchanting location is all about…
This classic is followed by "L-O-V-E", another song that has bonded countless love-matches over the years. Then, as if the evening air wasn't already brimming over with romance, comes the finale, the event's climax: "Can't take my eyes off you."
So, have you been dreaming? Be assured, you weren't. This was all for real and happened on August 8 at Hillside Beach Club… Watch the video and you'll see for yourself. But make sure that this time next year you will be at Hillside Beach Club, so you can enjoy this unforgettable evening.
Air on a G string ( J S Bach)
Jalousie 'Tango Tzigane' (Jacob Gade)
Oblivion (Astor Piazzolla)
Denizde Akşam (a Turkish favorite)
Cantemos corazón (Enrique Alesio)
Underground Tango (G. Bregovic)
Tango el Choclo (Ángel Villoldo)
Canon (Pachelbel)
Por una Cabeza (Carlos Gardel)
Waltz No. 2 (Shostakovich)